This summer will look a little different without overnight camps. We still have a 4-H filled summer with you all! This will be the location to find all the upcoming info on camps and conferences! Here is a brief overview of our summer schedule:
Regional Academic Conference- June 8, 2021 (Tennessee Tech University, Cookeville)
Livestock Clinic- June 11, 2921 (Smith County Ag Center)
4-H Electric Day Camp – June 14, 2021 (Clyde York Center, Crossville)
4-H Traveling Roadshow- June 18th, 2021 (Transporation included from UT Extension Overton to Clyde York Center, Crossville)
4-H Electric Day Camp- July 1, 2021 (Ridley 4-H Center, Columbia)
Pioneer Camp– July 6-9, 2021, Camp Woodlee Youth Camp, McMinnville, TN
Central Region Culinary Day Camp– July 7, 2021 (Tennessee Tech, Cookeville)
Overton County Fair– June 15-25th, 2021 (Overton County Fairgrounds)
Livestock Judging Camp- July 23-25th, 2021
May 12th, 2021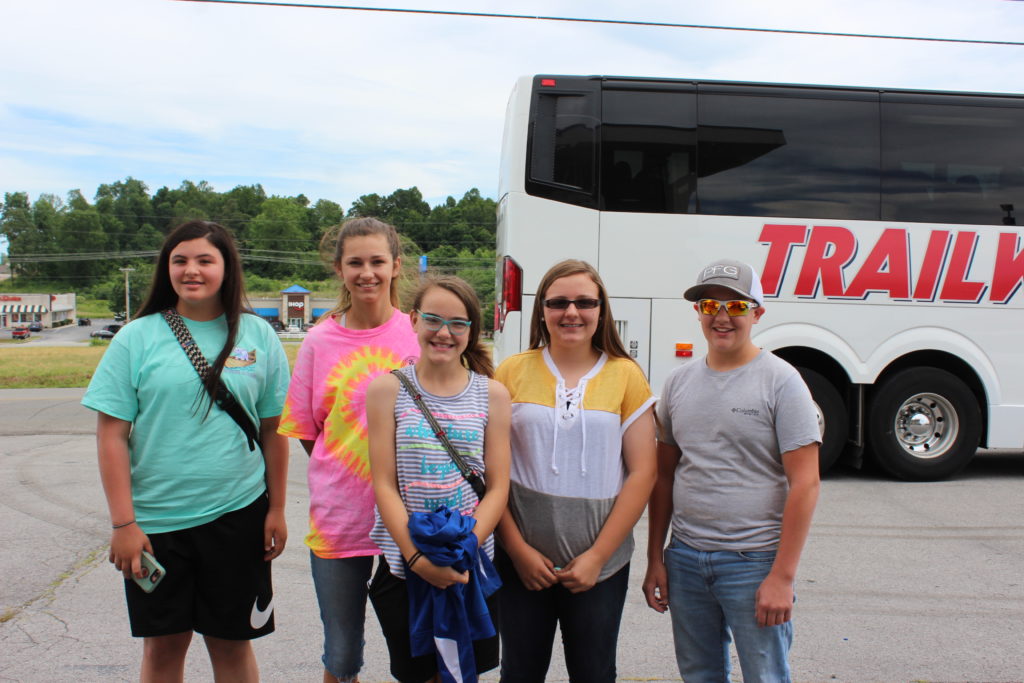 Academic Conference
June 8th, TN Tech
There are other locations if the June 8th date does not work.
Does your child have a hobby that interests them in particular? Are they in 6th-8th grade? Do you want them to get hands-on experience with a caring adult who has turned that interest into a career? 2021 Tennessee 4-H Academic Conference might be for them! For 2021, it is a one-day event at TN Tech University! Kids who should attend include youth interested in:
• Beef
• Citizenship
• Companion Animals
• Consumer Ed/Economics
• Dairy
• Gardening
• Food Science/Nutriton Health and Fitness
• Forestry
• Horse
• Line and Design
• Meat Goat
• Poultry
• Sheep
• Swine
• Vet Science
• Wildlife and Fisheries
Download the application and other files: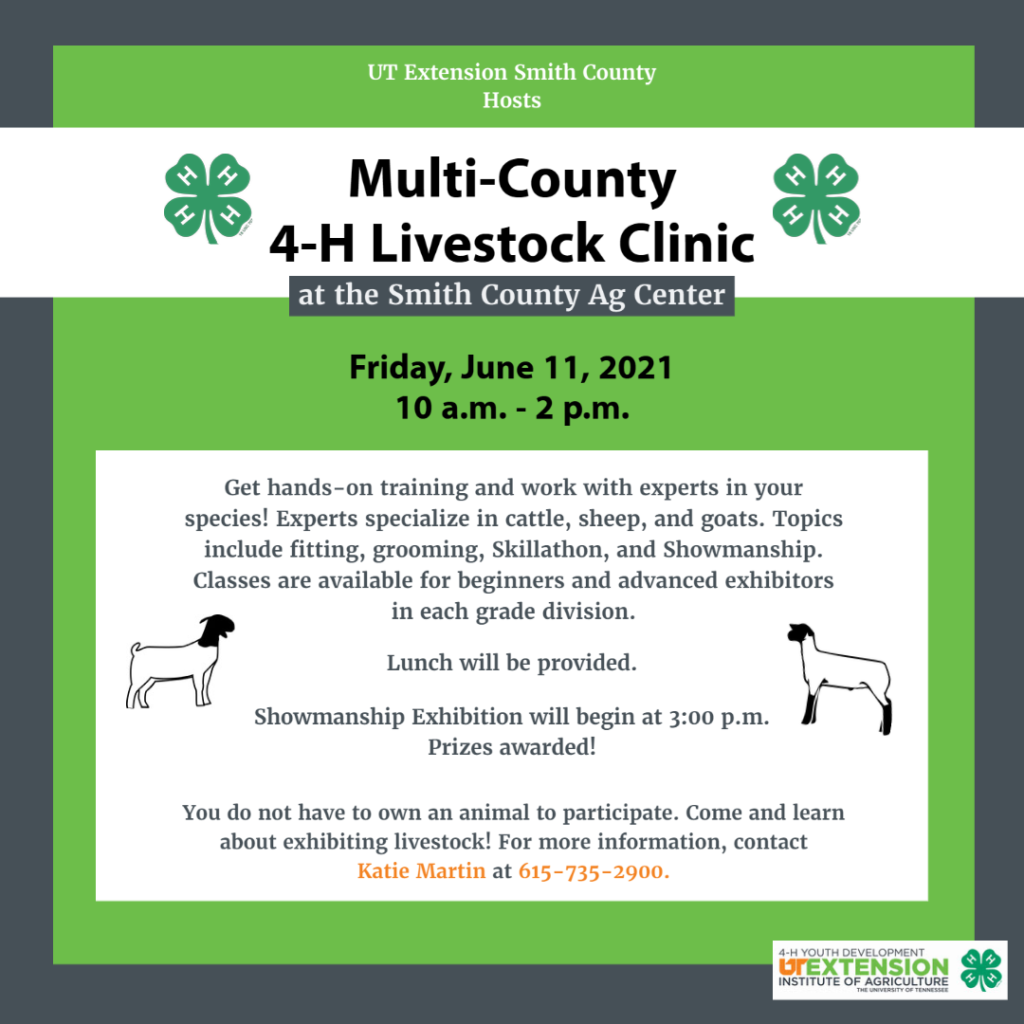 Multi-County Livestock Clinic
Friday, June 11, 2021: 10:00 AM to 2:00 PM
Have you been to a county fair and see people showing their livestock? Do you own cattle, sheep, or goats? Do you want to know how people get started or just want to grow your skills? This clinic is a great place to start! If you do not have an animal, that's ok, they have some you can share. If you do have sheep, cattle, or goats, bring them to practice!
$10 includes:
✓ Shirt
✓ Lunch
✓ Practice sessions for fitting, grooming, skill-a-thon, and showmanship
✓ Classes for beginners and advanced exhibitors
✓ Practice contest at 3:00 PM with Prizes
Electric Camp
June 14th
Clyde York, 4-H Center
$40 or by Scholarship
We have a minimum of 4 scholarships to give each year.
Registration Due June 1, 2021
4-H Electric Camp: 30th Year Anniversary Road Show
4-H Electric Camp is a fun-filled, rewarding adventure in electricity. At these regional camps, you will learn what electricity is and how it works. You will work with electrical specialists from across the state in learning centers. Each learning center will consist of hands-on activities so that you can learn by doing. You will also have the chance to meet other 4-H'ers from across Tennessee and explore careers in energy, electricity, and basic sciences. It's an electrifying experience!
Apply by May 15th here: https://forms.office.com/r/KGa9GgjPyF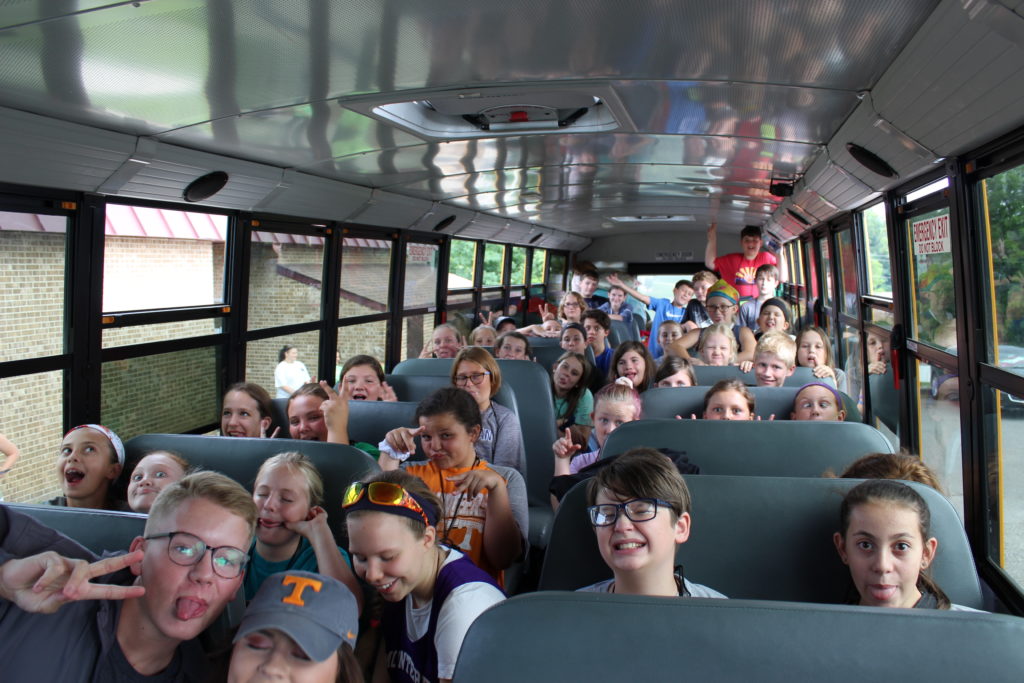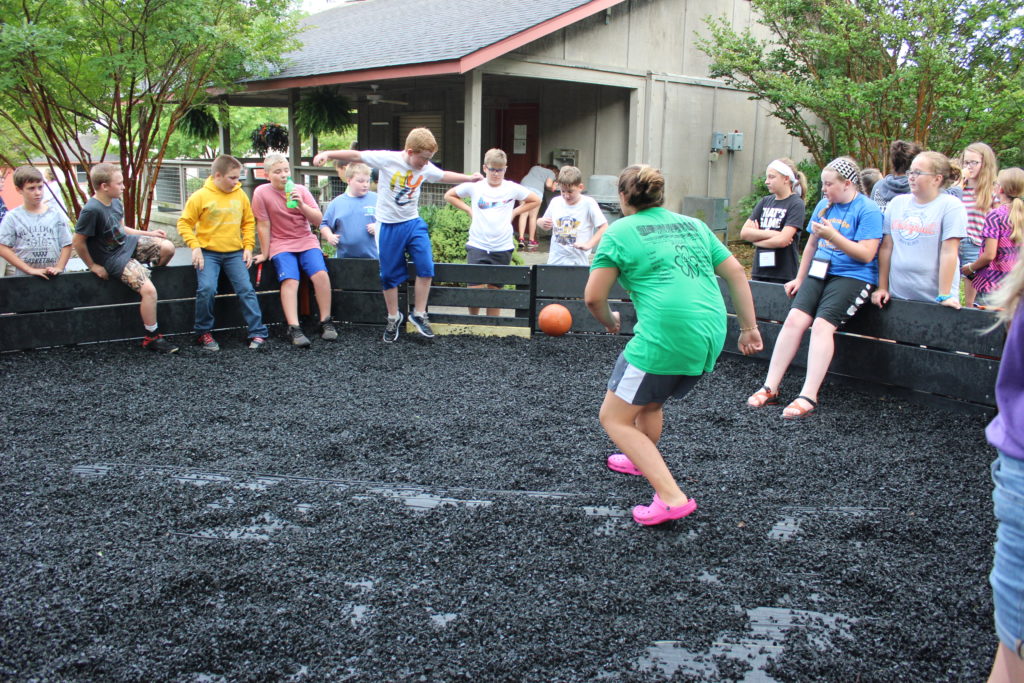 4-8th Grade Traveling Road Show
You can go to 4-H Camp for a day this year and experience the fun of camp. June 18th, we will have a drop-off at a scheduled time and will depart at 7:30 AM. We will be home by 8:00 PM.
The Early Bird Special For Camp is $40 and will include:
✓ Transportation to and From
✓ 5 programs
✓ Lunch
✓ Dinner
✓ Snack
✓ T-Shirt to tie-dye
✓ Water Bottle
✓ Archery
✓ Health Rocks Activity
✓ Backpack of take-home activities
✓ Campfire
To be eligible to attend, please:
✓ Register for Remind: https://www.remind.com/join/oc4htnsum
✓ Pre-register here: https://forms.office.com/r/zZG4dpSkTS
✓ Once you fill out the form, fill out the forms provided through DocuSign that will be e-mailed within 5 days of you submitting the form. Please note, you can fill them out manually, but they must be turned in to hold your space on the list. Every line must be filled out on the 600a.
✓ Mail Check for $40 to Extension Office.
✓ Fill out this form and e-mail it to Miss Nicole by May 1:
Registration Due June 12th, 2021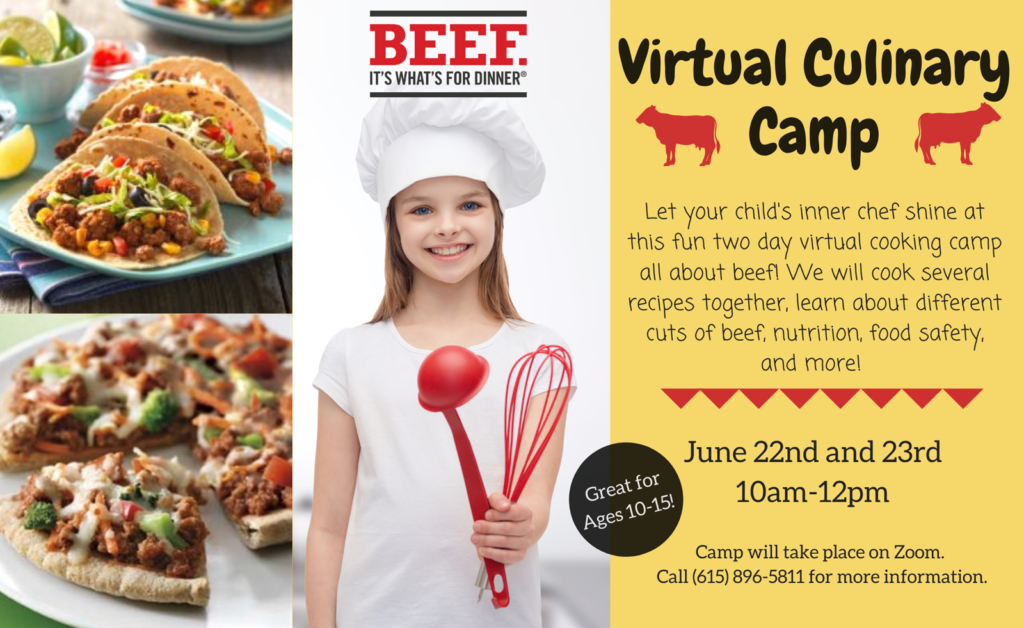 Virtual Culinary Camp
June 22nd and 23rd
10 AM-12PM

Let your child's inner chef shine at this fun two day virtual cooking camp all about beef! We will cook several recipes together, learn about different cuts of beef, nutrition, food safety, and more! This class is best suited for kids ages 10-16. Prior to the start of camp, we will send a grocery list and supply list so you can follow along with the recipes at home!
All participants will receive a goodie bag after participating in the camp. Registration limited to 50 participants.
When: June 22nd & 23rd 10am-12pm
Where: class will take place on Zoom!
For more information, contact: Janna Sullivan, jsullivan@tnbeef.org or call (615) 896-5811.
Register hereL https://www.tnbeef.org/cooking/youth-culinary-camp-registration
Youth in Overton County who register by June 12th and notify Miss Nicole that they will be participating will have an additional goody bag available for pick up the week prior to the meeting.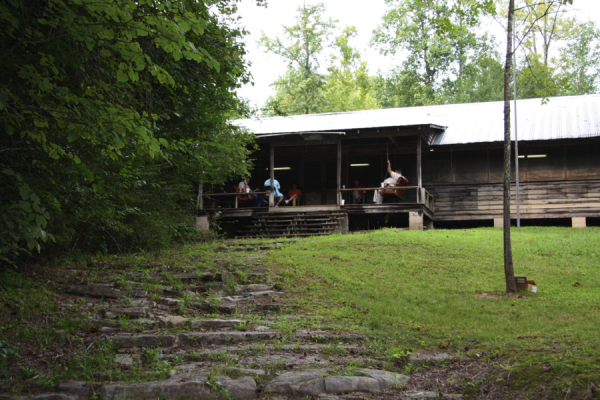 Pioneer Camp
This event will take place at Camp Woodlee in McMinnville, TN July 6-9, 2021 and is open to current 7th-10th graders. This four-day, three-night event will be packed full of fun outdoor educational opportunities. The cost for camp is $175.00. Current guidelines and protocol regarding masks, social distancing, temperature checks, and health screenings will be followed.
Payment and forms are due May 20th! Limited spaces are available. (20 female, 20 male campers).
Applications Due April 29th, 2021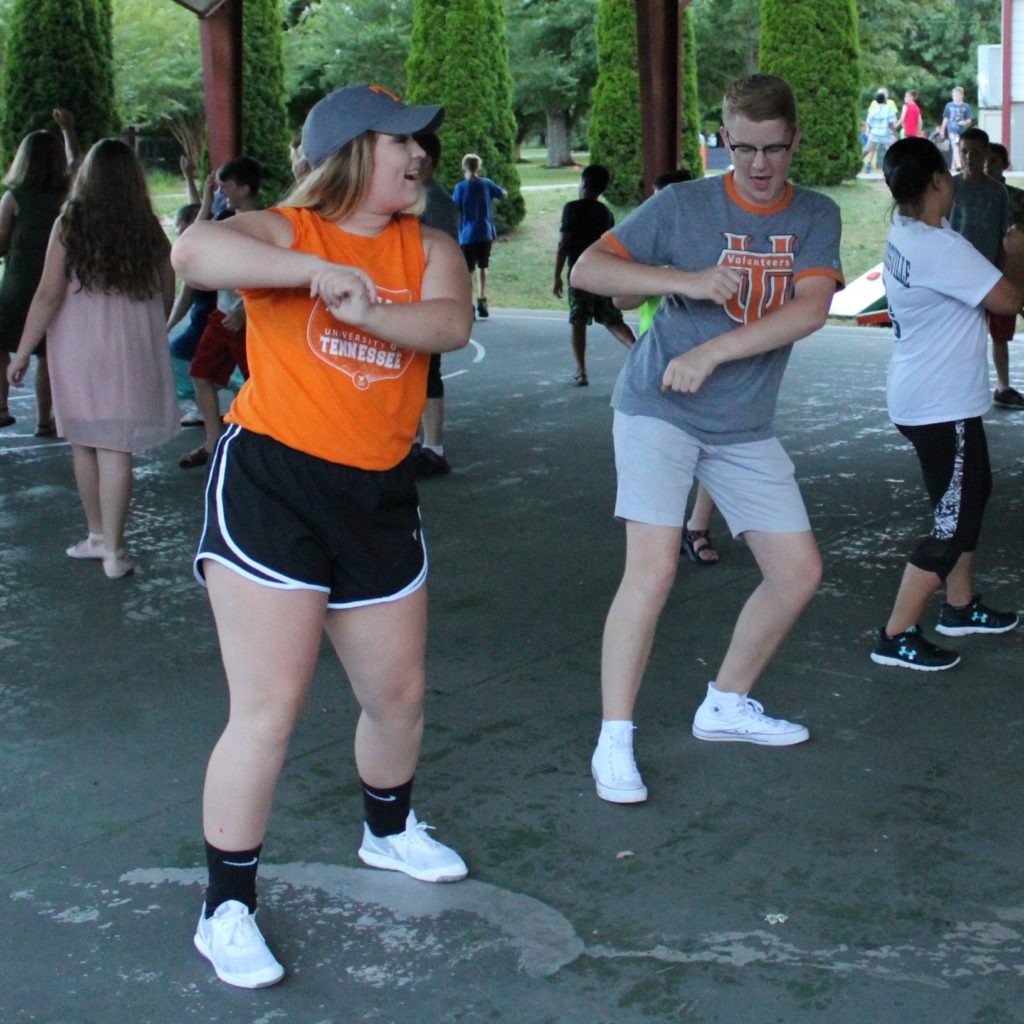 Teen Leader Camp Assistant Application
Many kids enjoy being a Teen Leaders at 4-H Camp. Being a teen leader is fun, rewarding, and looks good on college/job applications. There is an application process for each camp. If you have a 9th-12th grader, please encourage them to apply!
Download and e-mail it to Miss Nicole as soon as possible to be considered. nmarrero@utk.edu
Cost: $50
Registration deadline: June 1st.
HOWEVER, FIRST COME FIRST SERVE. If interested, come in ASAP! Over half the spots are taken already!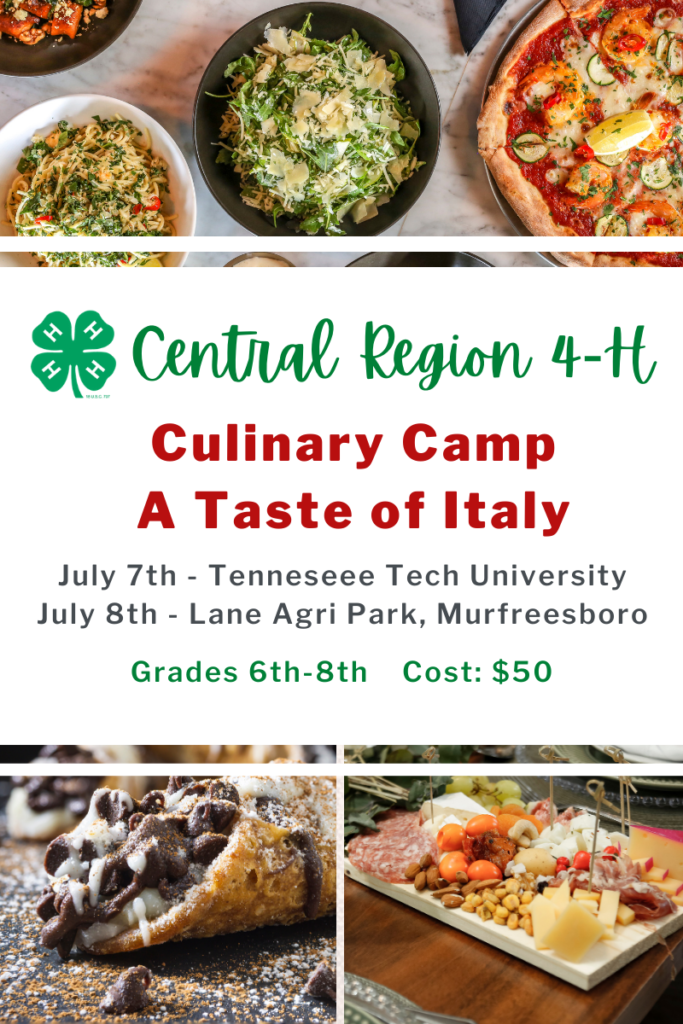 Culinary Camp
We are pleased to announce Central Region 4-H Culinary Camp will occur this year in two locations as a day camp!
The theme will be A Taste of Italy at both locations. This camp is open to junior high youth in grades 6th – 8th as of January 1, 2021.
Wednesday, July 7th 9:00 a.m. – 4:00 p.m.
Oakley Hall, Tennessee Tech University in Cookeville
Limited to the first 20 campers
OR
Thursday, July 8th 9:00 a.m. – 4:00 p.m.
Lane Agri-Park in Murfreesboro
Limited to the first 16 campers

To Register: e-mail nmarrero@utk.edu!
Overton County Fair
July 15-25th, 2021
4-H has several programs at the Overton County Fair. We hope you decide to participate. When the fairbook is posted, we will share it here! We do need volunteers from 5th grade to adulthood! If you are able to help, please let us know what days by filling out this doodlepoll: https://doodle.com/poll/hxbu2xcf5xy6x7gu?utm_source=poll&utm_medium=link
Camp Costs:
Early Bird Camper Cost: $150
Late Camper Cost: $175
Coaches Clinic: $50
Mail payment to:
Abigayle Pollock
Brehm Animal Science Building
2506 River Drive
Knoxville, TN 37996
Make checks payable to: University of Tennessee
Livestock Judging Camp
July 23-25th, Brehm Animal Science Building
If you are in 9th-12th grade, this Livestock Judging Camp will be great to brush up on your judging skills. The camp will start friday afternoon and be held through sunday.
New to this year, parents can attend Saturday to receive a special training to help their kids.
To register visit:
https://forms.gle/MnkN63ofdGGj9dKQ9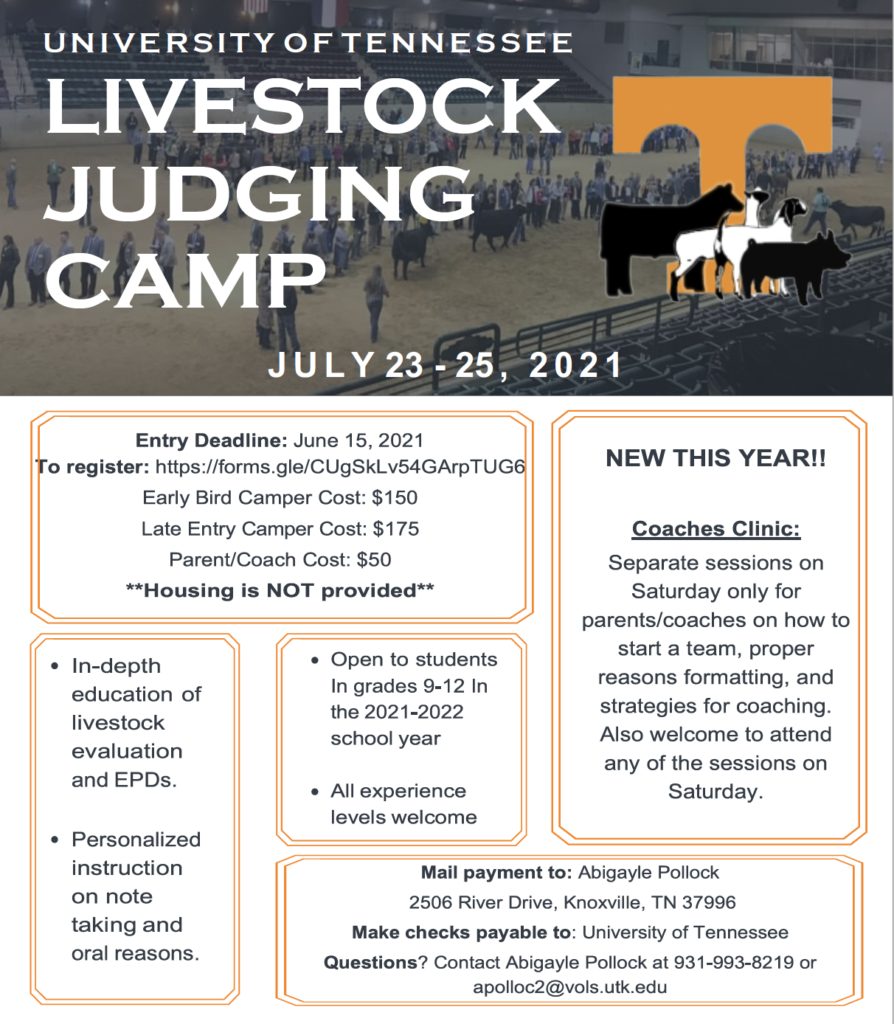 Questions can be sent to: apolloc2@vols.utk.edu